Browse Our Courses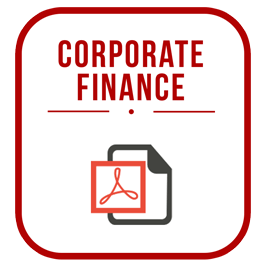 Credit Process
SKU 00074
Product Details
About the course
The course begins with a discussion of the credit process mindset (including assessing applicant's intent, underwriting, pricing of credit offering and fit to customer profile of the bank).
Various terminology and concepts are defined to ensure that the reader becomes familiar with the credit process language. These include capital structure, leverage, maturity, default, interest, commitment fees, credit culture, liquidation costs, credit-worthiness, work out and charge off, owner's equity, stakeholders, bankruptcy, credit limit, collateral.
The reasons for borrowing are then presented followed by the sources a borrower has for repayment. The various types of lending products are then described. Next, credit risk and credit spreads are explained and the importance of undertaking a credit analysis is elaborated on.
Each step in the credit process is then explained. This includes setting and understanding the objectives of lending, understanding the information gathering processes, processing information, making the credit decision by examining various factors, specifying the terms of lending and setting loan prices, and finally preparing the documentation.
This discussion is followed by case studies covering the analysis of cash flow statements (one important factor impacting the credit decisions of banks and other lending institutions).
Learning Objectives
After taking this course you will be able to:
Define the four elements behind the credit process mindset
Define various terms related to the credit process
List the reasons for borrowing
List the sources of repayment
Outline the credit process
Define and elaborate on each step within the credit process including

Describing what credit culture is
Describing the various information gathering processes such as need analysis, risk, repayment sources, industry profile, management, track record
Understanding what information processing involves including pre-processing and preparation of the credit memorandum
Listing the various credit decisions
Describing the factors impacting the credit decision such as industry and business analysis, ratings of credit rating agencies, cash flow analysis, cash flow statements
Describing the terms of lending and the various covenants added to term sheets
Defining loan pricing
Describing documentation

Understand how to carry out a cash flow analysis
Prerequisites
The candidate should be comfortable with basic mathematics and EXCEL.
Target Audience
This course is for beginners in the finance field.
Save this product for later