Browse Our Courses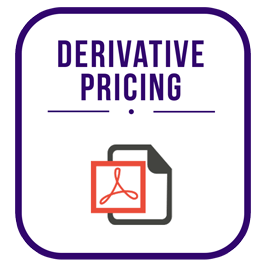 Derivative Pricing – Binomial Trees – Efficient Approach
SKU 00019
Product Details
About the course
This course focuses on an alternative method of implementing a two-dimensional binomial tree compared to the traditional method of building a binomial tree in EXCEL presented in most option pricing text books.
The alternate approach is based on the techniques documented by Professor Mark Broadie at Columbia Business School as part of his coursework in Security Pricing and Computational Finance courses at Columbia University. The calculation methodology is more efficient as it allows for the extension of a simple 3 step tree to a 50 – 100 step option pricing tree in a few minutes.
The course begins by walking through the construction of the tree to price European calls and put options. The model is then updated to price American and Knock out and Knock in (Sudden Death) options.
Learning objectives
After taking this course you will be able to:
Understand and appreciate the calculation efficiency of the alternate binomial trees approach
Calculate the price of various options using this approach including European call & put options, American call & put options, capped calls with automatic exercise, knock in and knock out options
Prerequisites
The candidate should be familiar with basic derivative products, the use of the traditional binomial tree method for option pricing, and be comfortable with basic mathematics, statistics, probability and EXCEL.
Target Audience
This course is for beginners in the finance field and is also aimed at banking, corporate and treasury teams.
Save this product for later