Browse Our Courses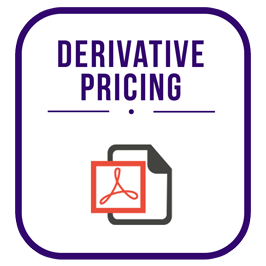 Derivative Products
SKU 00021
Product Details
About the course
This course continues where the "Derivatives Terminology Crash Course" left off. It digs a little deeper into derivative products, their pricing, sensitivities and product variations.
It begins by presenting the qualifications that accompany a typical derivatives term sheet. A standard template for evaluating derivatives products is presented. This is followed by a comparison of the various characteristics of derivative products.
The course then provides numerical examples of payoffs for vanilla products. It assesses which factors impact option prices and to what extent. Next, the value of European options are calculated using the Black Scholes formula. Definitions and formulas for Greeks, i.e. option price sensitivities are presented. American options values are calculated by constructing a traditional binomial tree.
The latter part of the course briefly overviews product variations of options, forwards, futures and swaps.
Learning Objectives
After taking this course you will be able to:
State the general qualifications that are presented and shared with a typical derivative deal
Recognize how various factors impact option price
Calculate the value of an option using the Black Scholes formula
Define and calculate option price sensitivities, i.e. Greeks
Construct a traditional binomial tree and compute the values of American options
Describe the product variations to the basic derivative instruments
Prerequisites
The candidate should be comfortable with basic mathematics, statistics, probability and EXCEL.
Target Audience
This course is for beginners in the finance field and is also aimed at banking, corporate, treasury and sales teams.
Save this product for later