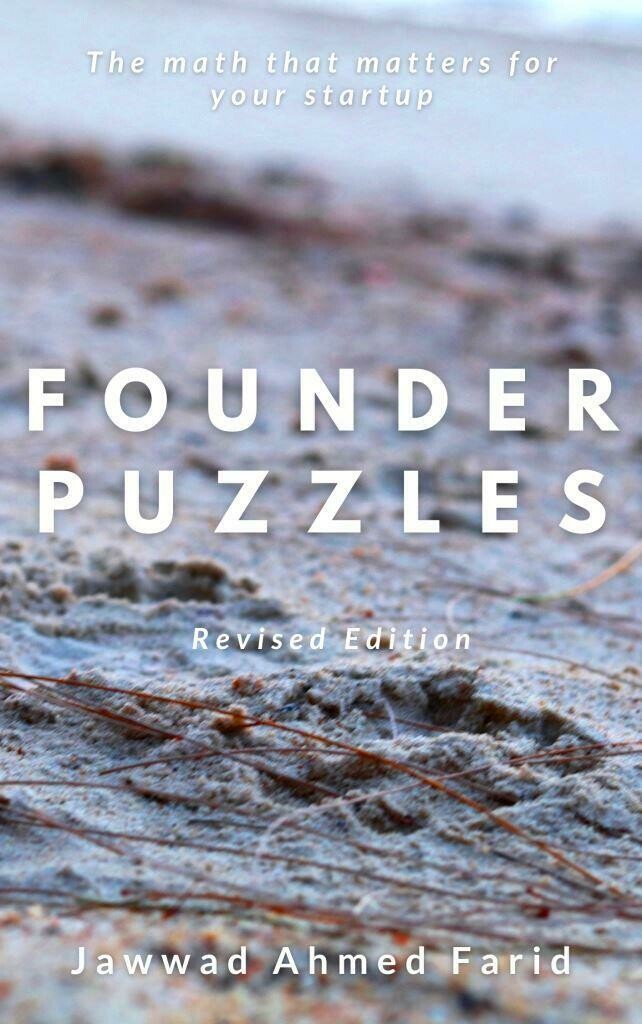 Founder Puzzles
SKU 00154
2 new chapters, 6 new Excel models.
Product Details
Founder Puzzles. Financial Modeling for Startups and Founders. Revised Edition. Nov. 2020
The Math that matters for your startup.
When it comes to understanding the math behind a startup, an idea or a product, where should we start? What questions should we ask? What models should we build? What if we have no background in finance?

As founders we often start on the wrong foot when it comes to financial modeling for our ideas and teams. Most often when we think we have it sorted, we build the wrong models, we ask the wrong questions.
Founder Puzzles shows you how to use simple frameworks in Excel to identify winning choices by asking the right questions, right at the start.

More effective decisions as a founder using frameworks that give you quick answers. From pricing products to sizing markets. From projecting revenues to estimating optimal bet size.
Real world questions. Real world models. Real world answers.

Video review

---
What do you get? First things first.
Three printable PDF files.
a) Founder Puzzles, Revised Edition.
b) Better Excel Charts.
c) Reboot, 3rd Edition.
The three PDF files cover frameworks, materials and background reading.
Ten unlocked Excel Files. Four variations of Maya Closet Financial Model. Two variation of GEMS Education Financial Model. 4 additional supporting Excel Files.
The Excel templates present models in different stages of assembly so you can you follow through how they evolve across the book.
---
Why should you read this book?
Why should anyone read this book? Because as founders we often get financial modeling wrong.
At its heart Founder Puzzles is not a book about building better Excel models for businesses. It is a book about building better businesses, right from the start.

How? By asking and answering the right questions, leading to simple credible narratives that help us build worlds we want to build.
Much cheaper to do this in Excel than with blood, sweat, tears and capital. Founder Puzzles shows you how to do all this better as founders. How to use simple frameworks to identify winning choices by asking questions that matter.
Model building is all about telling stories. The genre of financial fiction for lack of a better word. The models we build determine the stories we tell
Is that really difficult? In our world complex is easy, simpler is difficult.
Startups are hard. Modeling them is harder. Which is why in this book we use live cases to walk through modelling revenues, unit economics, sizing markets, pricing basics, investor mindset, valuation land mines and founder risks.

Four years in the making the book summarizes twenty years of experience as a serial founder and as a mentor to startup teams in the region. Twenty years of committing and witnessing every single mistake in the book. Twenty years that saw us raising seven rounds across four ventures on two very different sides of the planet. Twenty years of taking the very complex and making it simpler.
Build models for founders, not investors. The investors won't mind. Build businesses, not models. The models would sort themselves out. Focus on asking the right questions, not answers. For the real reward of the journey, is the journey, not the destination.
What is the book about?

As founders we often think about questions that we need to answer for our business. Stuff that often requires us to sit down and build a model in Excel.
Who do we build that model for? For founders or for investors?
How complex should it be? How much time should we spend on building it?
What is the one thing we need to get right?
What is the question we are trying to answer? How will this model help us do a better job?
Where do we start? What do we assume? Who do we ask?
Sample frameworks the book reviews:
Understanding unit economics. If you can't make money on a single order, can you make it with on a thousand orders? A clear dissection of break even costs, contribution margin, customer acquisition costs (CAC) and life time value (LTV) of customers. Why CAC < LTV is one of the most important equation we need to understand as founders.
Projecting revenues. If you sell products what is the simplest way of projecting income for the next 3 to 5 years. How fast can you grow and what are the drivers for that growth?
How do you use such a model to decide whether to invest in better servers, relevant content, improved SEO, higher conversion or all of the above. If you could only do one, which one should you pick? Which one would a quick financial analysis recommend?
Getting quick answers fast. Rather than building complex models, our emphasis as founders should be on asking the right questions and then using Excel to find quick answers to the same questions.
Whether its unit economics, projecting revenues or pricing products, spending time upfront in identifying questions we want to ask is a worthwhile investment. Once we understand the questions, it is equally important to start with a simple bare bone model first. Model building, like minimum viable products is an iterative exercise.
Live case studies. The book uses multiple live case studies to based on businesses in the real world to illustrate concepts and examples.
Maya's closet. An online specialized retailer focuses on the toddler and pre-teen clothing and accessories market. A case study with four versions of a financial model ranging from the very simple to complex.
Grant Application. A grant application for a reader revenue supported news analysis and commentary site. The application was used for a Google News Initiative grant competition and made it through two rounds of selection. A simplified model with a detailed review of revenues sources and primary expenses. A case study with a single simplified Excel model.
GEMS Education. A private school system negotiating a new line from their bankers. This is the most complex model of the lot. To give you a sense of how quickly complexity can get out of hand. Two models are included. A data dump along with chapter 16 asks you to complete the model on your own as a capstone final case. A solved solution is included for sell assessment and review once you are done with building your version of the model.
Primary skill set. Teaching financial modeling and analysis for founders, startups and creators using a mix of frameworks, case studies and partially completed Excel sheets with solved solutions.
Real world questions. Real world models. Real world answers.
The 16 chapters from the book include:
7 lessons from finance for founders
Modeling revenues
Unit Economics for startups
Pricing Fundamentals
Value based Pricing
Market Sizing
Understanding Investor Mindset
Revenue Models for content plays
Disney Marvel Case study
Products vs Services
An introduction to valuations
Real world Models. Bringing it all together.
GEMS Education. A private equity case study
Kelly criterion. Founders, Risk and bet size
Lessons from launch.
Reality Checks.
Thesis behind the book
The core thesis of the book is:
As founders rather than building better more complex excel models, we need to focus on building better businesses using simpler excel model.
We need to build models for founders, not investors
It is easier to test things out in Excel, than in the real world with scarce capital.
Different location pins. Same challenges. Similar solutions.
These are simple statement but one that requires a mind shift. The objective is not to spend days building a model. The objective is to have specific questions and to build models to answer those questions.
Do the math but keep it simple, relevant, realistic and to the point.
Complimentary inclusions
The book comes with complimentary copies of Reboot, 3rd Edition and Better Excel Charts. The book package include Ten supporting Excel files for illustration, educational and academic use.
Who is the Author?

Jawwad Farid has been building, implementing risk models and back office systems since 1993. Jawwad is a Fellow Society of Actuaries, (FSA, Schaumburg, IL), holds an MBA from Columbia Business School and is a computer science graduate from FAST NUCES.
Within the technology sector in Pakistan, Jawwad served as a national judge and mentor for the PASHA delegation to the Asia Pacific ICT Awards as well as a head judge for the Asia Pacific ICT Awards from 2006-2018. He was a member of the team that setup, raised funding and launched the The Nest I/O technology Incubator in Karachi and a mentor and advisor for multiple teams that went on to raise venture funding from local and foreign investors.

Jawwad is the author of four books of which Option Greeks Primer and Models at Work, were published by Palgrave Macmillan. His latest project is an advance Handbook on Portfolio Optimization Models that he uses to teach Executive MBA students, traders and bankers in Dubai and Karachi.

Founder Puzzles is his 5th book.
Additional sample content
Jawwad Farid at 021Disrupt2020 - Product launch lessons for broke and hungry founders from the school of hard knocks - extended edition - 36 minutes.
Audio recording: Founder Puzzle, Revised Edition. Abridged Preface by Jawwad Farid
Save this product for later