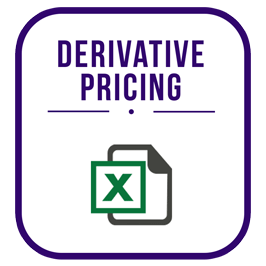 Pricing Ladder Options using a Monte Carlo Simulator
SKU 00088
Product Details
About the Course
The course consists of an EXCEL file that presents an example of how a ladder call option may be priced using Monte Carlo simulation.
The methodology used in the file is as follows:
Simulating path and terminal prices for the underlying asset using a 10-step Monte Carlo Simulator
Calculating payoffs and call premiums based on the structure of a three-rung ladder option
Storing results of 100 scenarios using EXCEL's Data Table functionality
Plotting the simulated call premium distribution
Learning Objectives
After taking this course you will be able to:
Build a Monte Carlo simulator in EXCEL to simulate the underlying asset's prices
Calculate ladder option value for 100 scenarios
Plot the results of the simulated distribution of option prices
Prerequisites
The candidate should be familiar with derivative products and be comfortable with basic mathematics, statistics, probability and EXCEL.
Target Audience
The course is aimed at professionals who deal with pricing, valuation and risk issues related to derivative and structured products.
Save this product for later